Like the order in which the skincare routine is used, hair care is also applied in the order in which it works optimally for the health and beauty of the hair. The following is a 10 sequence of hair care routines that you can try and do at home to help with hair problems.
1. Get used to combing hair
Make it a habit to comb your hair every day to avoid tangles. Launching from dove.com, with you combing your hair regularly, the natural oils in your hair will be well distributed, starting from the roots to the tips of the hair. This will certainly make your hair grow healthier and more shiny.
A suitable comb or brush will help protect both the scalp and the hair fiber of your hair, giving it shine, volume and softness. Here we reveal the necessary clues to get it right.
Types of combs and brushes
There is a wide variety of combs and hairbrushes. Each one presents appropriate characteristics for the use that we are left to give.
Natural bristle brush

If we want to take maximum care of our hair, we recommend brushes with natural boar bristles , since they leave the hair shiny, do not cause frizz and also do not damage the hair fiber at all. By combing with them we will help to stimulate the blood supply to our scalp, seal the hair cuticle and distribute the natural oil of the hair. In short, our hair will look visibly healthier.
Tangle Teezer Brush

The detangling brush par excellence is the so-called Tangle Teezer , whose original shape reminds us of a hedgehog. Its soft synthetic bristles will facilitate detangling as much as possible that prevents breakage and softens the cuticle.
Flat brush

They are the most used to achieve a natural straightening free of static electricity. Its bristles are generally plastic and are arranged in such a way that you can comb the hair without pulling.
Round brush

If what we want is to give our hair more volume, you cannot miss the round brush . The most effective is to divide the hair into strands and run the round brush from the roots to the ends while applying the heat of the dryer.
Skeleton brush

It is a brush with fine, separate bristles for a frizz-free hairstyle.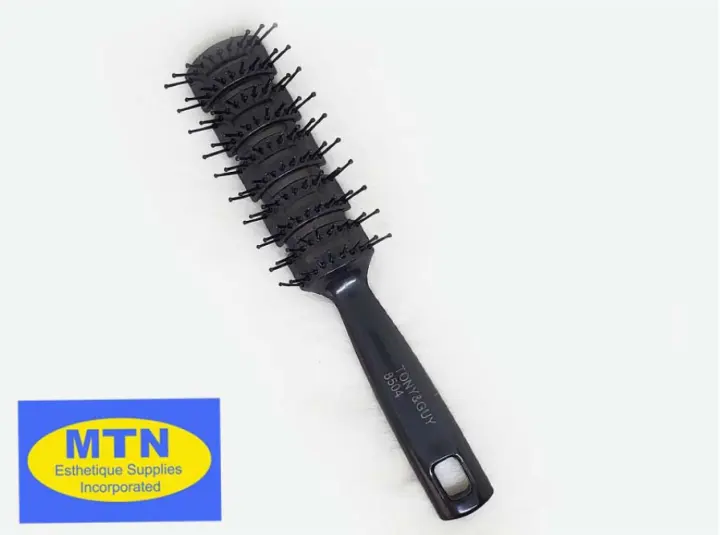 Classic comb

They are combs with two types of prongs : one half has them further apart, to detangle the hair, and the other has them closer together to facilitate the separation of strands and polish the hairstyle.
Mouse tail comb

This type of comb has a long barb on the handle . It is used to separate sections of hair with precision and to create perfect styles.
Wide barbed comb

The combs wide tooth and separated are very useful for the hair when wet. These types of comb respect the scalp thanks to their rounded ends and do not break the hair.
Which comb or brush to use according to your hair type?

Straight hair without volume

Undoubtedly your great ally will be the round brush to provide volume when drying by lifting the roots. A fine round brush will also be ideal if you also want to curl the ends.
You can use a barbed comb together to tease some areas for volume.
Curly hair

The most recommended is the wide-toothed comb, which glides very well through the mane while maintaining the curl. If what you want is to smooth it, the flat brush will be the most indicated.
Long hair

Long hair has a tendency to get more tangled and requires more care to keep it healthy. That is why we recommend brushes that do not break the hair such as the T angle Teezer and brushes that do not damage the hair fiber such as the natural bristle.
Short hair

If you have a short hairstyle that is excessively frizzy, try using the natural bristle brush , as it will help tame unruly hair. When choosing combs and brushes we must know what possibilities there are according to our needs and type of hair. In this way we will achieve radiant and healthy hair, and a sublime hairstyle.
We remind you that for being a reader of our Hair Blog, we give you a coupon with a 6% discount . Take advantage of it right now!
2. Hair Oil Before Shampooing

The first time before shampooing, apply hair oil as a hair mask. Hair oil functions to maintain moisture, strengthen roots, increase blood circulation, and accelerate hair growth. The oil content is believed to improve the cuticle of the hair. You can use coconut oil, almond oil, olive oil or peppermint oil. For maximum results, massage into the scalp and leave one to two hours before shampooing. After that just rinse thoroughly using water and make sure there is no oil left. A little note, for hair that is easily oily, you should reduce the use of oil on the scalp to avoid limp on the hair.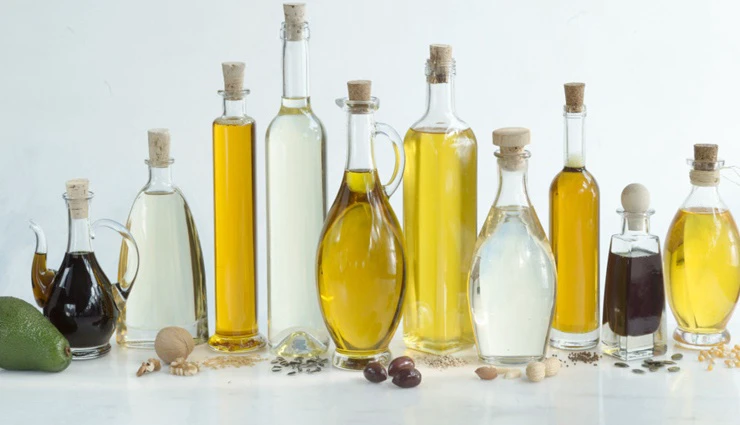 Shampoo and conditioner (or hair mask) are the essential steps in caring for your hair . But adding a hair oil to your beauty routine is the key to making your hair more beautiful, healthy and shiny. It is true that the texture in oil always raises doubts, especially when it comes to oily hair . However, hair oil has numerous benefits and, with good use , it can be applied to any type of hair.
" the importance of applying an oil to the hair is based on giving it back the protection that hair has by nature , it obtains it through the natural emulsion of the scalp and gradually loses it in natural hair growth, in addition to technical and mechanical processes "
The benefits of applying oil to your hair
oils not only moisturise and revitalize the hair, but also get repair tips damaged , help fight the dreaded frizz or frizz, prevent hair loss or protect of the harmful effects of the sun's rays. Some oils also act as thermal protectors against heat tools such as dryers and hair straighteners.
In general, they can be used on all hair, but not to abuse hair oil on fine hair with a closed cuticle . On the contrary, it is highly advisable to incorporate it into the routine of curly hair care because it prevents frizz and keeps the curl healthy and flexible, and also in dyed hair , because they can be damaged by aggressive chemical bleaching and use a repairing oil.
What type of oil to choose?
First, keep in mind that it is best to choose a specific oil for pel or , although olive oil is one of the traditional home remedies to repair dry hair .
Secondly, we must know what needs our hair has, since there are a good number of hair oils, each with a function. For example, almond oil is rich in moisturizing agents; the coconut oil nourishes, revitalizes and penetrates the hair fiber, so it is perfect for damaged hair; the oil shea butter, to the fatty acids contain minerals and vitamins, it is very good for dry or frizzy hair; the argan oil deeply nourishes and advise it to repair the ends; the jojoba oil , is good for oily hair as it cleans deeply the scalp; the rosemary oilfavors oxygenation of hair follicles, fighting hair loss; and olive oil has moisturizing and regenerating properties .
It is important to choose a good hair oil that contains polyunsaturated oils of natural origin so that they do not saturate, but do provide all the nutrition, softness and hydration to the hair fiber The usual thing is to find hair oils that contain in their formula a mixture of various natural oils .
How does it apply
Choosing a good hair oil is as important as applying it correctly. To begin with, it is essential not to take too much . We recommend a third of a teaspoon for short hair, half a teaspoon for medium hair and a teaspoon for long hair. As it is a dense and oily texture, it is always better to apply a small amount, than to use it, because the hair could be excessively greasy.
It can be applied both with wet hair and with dry hair , depending on the objective that is sought. We recommends heating the product in your hands and applying it from medium to ends . On wet hair, before styling, for its moisturizing action and thermal protection. Dry, as a styling finisher for a natural shine and anti-frizz effect . To carry out a nutrition and repair cure , on very dry or damaged hair, it can also be applied at night , from the roots to the ends , leaving it to act while sleeping and washing the hair the next morning, making two applications of shampoo. to remove it completely.
3. Wash Hair with Shampoo
After rinsing the hair oil stuck to the hair until clean, continue with shampooing. Just wash your hair 3-4 times a week to keep your hair clean and healthy. Also make sure to choose a shampoo with keratin in it. Keratin content will make hair not fluffy and perfectly straight. Avoid harsh shampoos , such as ammonium lauryl sulfate or sodium lauryl sulfate. After shampooing and your hair is still wet, you can apply conditioner to the hair shaft and let it sit for 5 minutes before rinsing.
How to wash your hair properly?

Washing your hair is not very complicated! We agree, but surely you can improve your washing routine to start a much more effective care process. Read on to discover how to wash your hair with the best results while taking care of your hair.
It is a routine, like brushing our teeth or cutting our nails, but the time has come to make some reflections on the correct hair washing so you can see everything it can do for you. Below we give you some indications so you can see how to improve your washing process.
Step by step instructions

Preparation: If you have used a fixing product, start by passing a comb to remove any residue.
Shampoo: Make sure you are using a shampoo for your hair type . When choosing it, you have to take into account if your hair is fine, oily, if it needs hydration, volume, etc. You can see which one best suits your needs among all the Gliss varieties .
Wet your hair with lukewarm water. The amount: The amount of product equivalent to the size of a hazelnut would be enough for short hair or medium length hair. If you have long hair, adjust this amount to the length of your hair. Spread the product all over the hair.
Shampoo: Make a little lather by adding a little water to the product before massaging your scalp in circular motions.
Rinse: Rinse your hair completely. It is important that no product residue remains on your hair. You see pressing the hair with your hands while you rinse it.
Make a final rinse with cold water to stimulate blood circulation.
Extra care products: Conditioners cover the hair with a thin protective film that provides shine, natural flexibility and better manageability. Hair treatments such as masks repair hair pores and should be used on damaged or dry hair once a week after shampooing.
Rinse your hair with lukewarm water to remove any excess care product until your hair is completely clean.
Wet hair : Wet hair is very sensitive so you should avoid rubbing it with a towel, instead press it. The towel will absorb the excess water without damaging your hair during the process.
Styling: Comb and detangle your wet or damp hair gently. Otherwise you would damage freshly washed hair, which is very sensitive.
Washing frequency: To achieve the best results with the shampoo, the hair must be washed every two or three days. Your hair will eagerly appreciate this care and will respond with flexibility and a silky shine.
4. Hair Mask and Deep Conditioning Mask

Apply hair masks from natural ingredients such as aloe vera, green tea, and olive oil every 1-2 times a week. Especially for very dry hair, this one conditioning mask contains substances that are able to hydrate, soften, and smooth frizz. Apply a deep conditioning mask 2-3 times a week. Apply a conditioner mask according to the instructions for use and let it sit for some time before rinsing it clean.
5. Hair Creambath

Creambath is one of the favorite hair care for women. You can do creambath at home with the help of others. The creambath process is carried out for one hour with massage on the head, neck, and shoulders to improve blood circulation to the head. Creambath should be done at least once a week to maintain hair moisture. Choose the type of cream bath that is suitable for your hair type and the problems you are experiencing.
You can do crembat at the salon or at home once a week. If you do creambat at home, choose a special creambat product that you can get on the market.
Now, many shampoo brands that offer such a product. The trick after shampooing, you apply the cream from the scalp to the ends of the hair. Then, gently massage and wrap your hair in a warm towel or let it sit for 5 minutes before rinsing.
6. Use Hair Serum for Hair
Use hair serum if you often use hair styling tools , such as a hair dryer, vise or non-permanent curling iron. The content of hair serum is able to replace protein in hair that is lost due to exposure to heat from the hair styling tool . The use of hair serum will make hair smoother and easier to style.
7. Hair Tonic

Use hair tonic in a semi-wet hair state after shampooing. The method in this hair care routine is important to provide nutrients to the scalp. Some hair problems that are difficult to remove will be reduced if you use hair tonic properly. Make sure not to overdo it when using hair tonic because it can cause hair to become limp.
8. Hair Vitamin
Apply hair vitamins in capsule form regularly to the hair shaft after shampooing. You can also get vitamins that are good for hair by eating eggs, spinach, nuts, and seeds. Nutritious foods and hair vitamins are important in a series of hair care routines to help prevent hair loss.
9. Hair Mist

For those of you who often do activities outside the home, you should pay more attention to the appearance of your hair to keep it smelling good. You can use hair mist to give freshness and fragrance to your hair all day long. Some hair mist products are also formulated with nutrients that are good for hair. So that the hair remains fragrant and easy to manage.
10. Reduce hair intensity from sun exposure

In addition to body skin, sun exposure can have a bad effect on your hair. The way you can do that is to apply this hair care routine routinely, you can cover your head with a veil, hat or umbrella.
That's 10 the order of the hair care routine that you can do yourself at home. Get the results of a healthy and charming hair appearance by using a variety of hair care products that have been tested for quality. Find various hair care products easily only through the official C&F Store website .